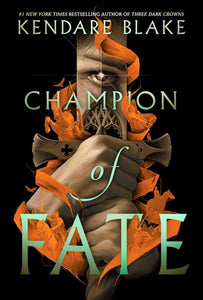 Champion of Fate by Blake
Regular price $19.99 Sale
In this epic duology starter by #1 New York Times bestselling author Kendare Blake, a girl is taken in by a group of female warriors who train her to shepherd a hero to victory—so long as she doesn't get her heart broken in the process.
In this sweeping fantasy perfect for fans of Alexandra Bracken and Stephanie Garber, Kendare Blake introduces a new heroine: Reed, the Aristene-in-training. The Aristene are hero-makers. Time and again, the women who make up this fabled order champion fighters to win wars for the glory of their goddess.
 After Reed was orphaned, the Aristene took her in. Now she's an initiate, finally ready to take her place beside her sisters-in-arms. There's just one task in Reed's way: she must lead her first hero to a great victory. Succeed, and she'll officially join the Aristene. Fail, and Reed will be cast out from the only home she's ever known.
Nothing is going to stop Reed from joining the order. But her infuriatingly charming hero is nothing like she expected. When her feelings take her by surprise, Reed is faced with a decision: fulfill her destiny as an Aristene, or forge a new path to an unknown future.