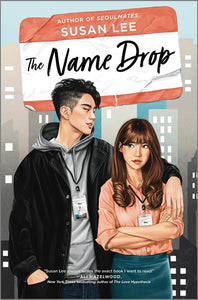 The Name Drop by Lee
Regular price $19.99 Sale
New from the author of Seoulmates comes the story of two teens who find themselves entangled in a case of switched identities at their prestigious summer internship--but the switch just might give them both the summer they've been looking for... and true love.
When Elijah Ri arrives in New York City for an internship at his father's massive tech company, Haneul Corporation, he expects the royal treatment that comes with being the future CEO—even if that's the last thing he wants. But instead, he finds himself shuffled into a group of overworked, unpaid interns, all sharing a shoebox apartment for the summer.
When Jessica Lee arrives in New York City, she's eager to make the most of her internship at Haneul Corporation, even if she's at the bottom of the corporate ladder. But she's shocked to be introduced as the new executive-in-training intern with a gorgeous brownstone all to herself.
It doesn't take long for Elijah and Jessica to discover the source of the mistake: they share the same Korean name. But they decide to stay switched—so Elijah can have a relaxing summer away from his controlling dad while Jessica can make the connections she desperately needs for college recommendations.
As Elijah and Jessica work together to keep up the charade, a spark develops between them. Can they avoid discovery—and total disaster—with their feelings and futures on the line?