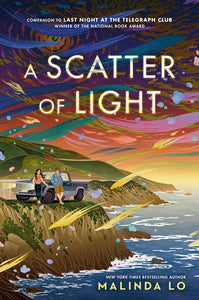 A Scatter of Light by Lo
Regular price $18.99 Sale
Award-winning author Malinda Lo returns to the Bay Area with another masterful coming-of-queer-age story, this time set against the backdrop of the first major Supreme Court decisions legalizing gay marriage. And almost sixty years after the end of

 

Last Night at the Telegraph Club, Lo's new novel also offers a glimpse into Lily and Kath's lives since 1955.

Aria Tang West was looking forward to a summer on Martha's Vineyard with her best friends—one last round of sand and sun before college. But after a graduation party goes wrong, Aria's parents exile her to California to stay with her grandmother, artist Joan West. Aria expects boredom, but what she finds is Steph Nichols, her grandmother's gardener. Soon, Aria is second-guessing who she is and what she wants to be, and a summer that once seemed lost becomes unforgettable—for Aria, her family, and the working-class queer community Steph introduces her to. It's the kind of summer that changes a life forever.

A standalone follow-up to

 

Last Night at the Telegraph Club.

 

Set over 50 years after the events of 

Telegraph Club,

 this novel follows a new set of characters as they come of age in similarly turbulent times while also offering a satisfying conclusion to Lily and Kath's story.

 

Last Night at the Telegraph Club

 

was the best reviewed and one of the bestselling Penguin YA novels of 2021.

 

Eight starred reviews, three ALA awards, an NBA, and a 

New York Time

 bestseller.

 

Gorgeous writing combined with meticulous attention to historical detail.

 

All the elements that earned overwhelming praise for 

Telegraph Club

 are back. 

 

Same burn, less slow.

 

Aria and Steph aren't 2013's Lily and Kath, but their romance is no less compelling.

 

Another facet of the Chinese American experience.

 

Aria is half Chinese and is related to Lily from 

Last Night at the Telegraph Club.

 

Malinda Lo is a great asset.

 Malinda has found her footing as an advocate for her own work online and in person.

 

Feifei Ruan will return to illustrate this cover.

 The 

Telegraph

 artist will create a companion cover that relfects the book's more contemporary setting.