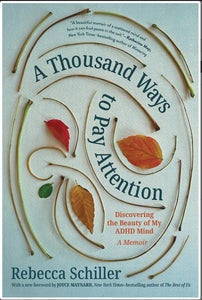 A Thousand Ways to Pay Attention by Schiller
Regular price $16.95 Sale
Now in paperback: A captivating, heralded memoir, "unflinching and full of truth" (Katherine May), of a woman making a home on a small farm while grappling with an unexpected ADHD diagnosis

"When you think about ADHD . . . do you picture a woman in the bucolic English countryside, raising her children along with an assortment of animals and vegetables? Why not?"—Salon

Moving to a small farm is Rebeca Schiller's dream come true. But as her young family adjusts to a new life in the countryside, her dream is threatened by something within. I'm aware of everything, all at once, which is too much. As Rebecca's symptoms mount—frequent falls, rages, and strange lapses in memory—her doctors are baffled and her family unmoored.

Finally comes a diagnosis: severe ADHD. For Rebecca, it is the start, not the end, of a quest for understanding. As she scrambles to support both family and farm, her focus spirals: from our current climate crisis to long-extinct lynx in the shadows of ancient oaks and the forgotten women who tended this land before her, their stories hidden just beneath the surface of history.

In this luminous, heralded memoir of one woman's newfound neurodivergence, attention is not deficient—but abundant.