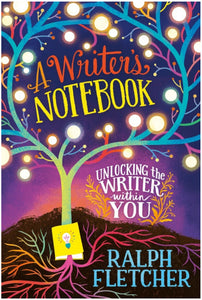 A Writer's Notebook by Fletcher
A refreshed edition of the perennially popular guide to effectively keeping a writing notebook for a new generation of young aspiring authors, including new cover artwork and nine chapters of new content from acclaimed author Ralph Fletcher.
Like everyone else, writers have daily thoughts and feelings and observe the world around them. But there's one key difference in writers—they react to the world around them differently. Writers need a place to record those reactions. Enter the writer's notebook.
Perfect for classrooms, A Writer's Notebook shows young and aspiring writers the ways that keeping a notebook of their thoughts, feelings, and ideas can help their writing. The notebook is a place to plant seeds that can one day turn into stories.