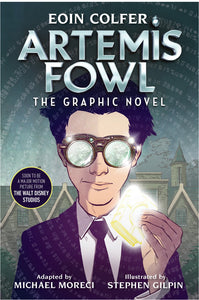 Artemis Fowl The Graphic Novel by Colfer
Regular price $12.99 Sale
The internationally best-selling novel by Eoin Colfer, now a movie on Disney+, is available as a full-color graphic novel with all-new text and artwork
.In 2001, audiences first met and fell in love with a twelve-year-old criminal mastermind named Artemis Fowl. Since then, the eight-book series about his adventures has sold over twenty-five million copies throughout the world. 
To coincide with the release of the movie on Disney+, here is an all-new graphic novel adaptation of the book with crisp, accessible storytelling and clear, cinematic perspectives. 
Readers of all ages can now follow the siege at Fowl Manor between Artemis and the fairies in action-packed, full-color panels.