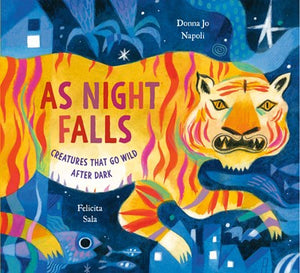 As Night Falls by Napoli
Regular price $18.99 Sale
As night falls. The earth cools. Waters calm. Winds hush…
But outside, night time is action time for some.
Silly action. Hungry action. Wild action.
 
From microscopic organisms to giant cats, it's surprising who you'll find awake in the middle of the night! Dinoflagellates guzzle floating bacteria, bumblebee bats loop and swoop, racer snakes slither, weasels sneak and circle, and spot-bellied eagle owls leap and sweep. One by one, the animals of the food chain find their next scrumptious treat.

For children whose curiosity abounds, and restless sleepers greedy for one more story or one more goodnight kiss, this distinctive picture book with a science focus gives a peek at the animals that come alive at night. The striking words of Donna Jo Napoli join the electric and wild illustrations of acclaimed artist Felicita Sala to make this the perfect picture book to help young readers get out all their wiggles and giggles  before bed.