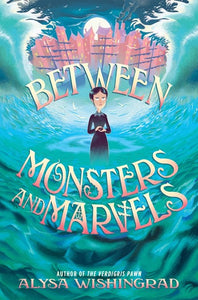 Between Monsters and Marvels by Wishingrad
Regular price $19.99 Sale
In the next stand-alone high-stakes middle grade fantasy by Alysa Wishingrad, the author of the Junior Library Guild Gold Standard selection The Verdigris Pawn, a misunderstood young girl named Dare is shipped to the mainland from her tiny island and uncovers startling secrets about her father's death, the island itself, and the monsters that lend its lore.

Monsters are still lurking on the island of Barrow's Bay.
Dare Coates is sure of it. No drifter or ruffian could have killed her father, the captain of the guard, while he was on patrol. But everyone insists that monsters have been gone for years now. Dare's mother. Her classmates. Even the governor, who swiftly marries her mother just months after her father's death. Dare's suspicions grow even stronger when the governor suddenly ships her off to the mainland, away from any hope of uncovering the truth about her father's death. Or so she thinks.
Soon Dare finds solid proof that monsters still exist and she starts to question everything she's always known. Was her father who she thought he was? Who can she trust? Where is the line between good and evil? The truth hides behind danger and deception. But with the help of an unlikely crew of cohorts and a stray beastie, nothing can stop Dare from finding out what happened to her father and exposing who the real monsters are.