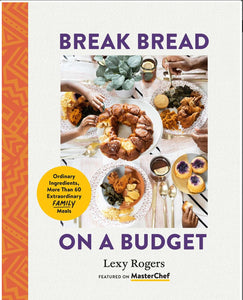 Break Bread on a Budget by Rogers
Regular price $18.99 Sale
Celebrity chef and mama-of-three Lexy Rogers is on a mission to teach cooks of all skill levels how to make simple, soulful, and budget-friendly meals the whole family will enjoy.

Break Bread on a Budget: Ordinary Ingredients, Extraordinary Meals shares MasterChef Contestant Lexy Rogers' best secrets for cooking for the home and from the heart.

Readers will learn how to break bread, while sticking to a budget.

Break Bread on a Budget offers everything a home cook could need to create family-favorite recipes: shopping lists, meal prep advice, and budget-stretching techniques from a young mother of three who perfected the art of cooking for her family on a shoestring budget—$40 a week!