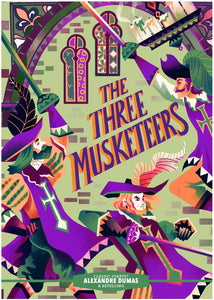 Classic Starts®: The Three Musketeers by Dumas
Fight for justice with swashbuckling soldiers in this abridged retelling of The Three Musketeers, part of the bestselling Classic Starts® series that has sold more than 8 million copies! 
 
"All for one and one for all!" Aramis, Athos, and Porthos make up the three Musketeers. Oh, and there's also the not-quite-yet Musketeer D'Artagnan. Together, the four men must use their wits and their swords to battle an evil Cardinal, the traitorous Milady, and other enemies of the French court.
This abridged retelling is the perfect way to introduce young readers to the adventurous world of historical romance and the royal French court.