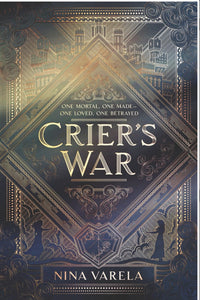 Crier's War by Varela
Regular price $11.99 Sale
From debut author Nina Varela comes the first book in an Own Voices, richly imagined epic queer fantasy about love, loss, and hope. Perfect for fans of Westworld, Game of Thrones, and Marie Rutkoski's The Winner's Curse.
Like all Automae, Crier was made to be perfect. Her design was created and approved by her father, the sovereign King Hesod of Rabu. However, when her new fiancé presents her with proof that there is a flaw in her design—one that shows she has the very human trait of passion—she worries it will lead to her downfall.
Ayla was born to be subjugated. In Rabu, humans are inferior to Automae and considered second-class citizens. Now she is working on the estate of King Hesod, who is responsible for the death of her family. For years, Ayla has been quietly plotting her revenge. Hesod took her family, so she intends to take his—by killing Crier.
Then, one fateful night, Ayla ends up saving Crier's life instead. Out of gratitude or curiosity, Crier requests Ayla as her new handmaiden. And though Ayla tells herself she only accepted the position to infiltrate her enemies, she starts to realize that Crier is nothing like she previously believed.
But as humans and Automae are on the brink of war, Ayla and Crier's relationship may be a catalyst for a battle that could end all of civilization.