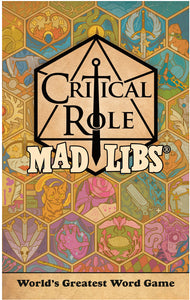 Critical Roles Mad Libs
Mad Libs is the world's greatest word game and the perfect gift or activity for anyone who likes to laugh! Write in the missing words on each page to create your own hilariously funny stories all about Critical Role.

Speak to dragons that can VERB or charge into battle with your friends on a NOUN! With 21 "fill-in-the-blank" stories about dice rolls, spellcasting, and Critical Role's Vox Machina and the Mighty Nein campaigns, read aloud in your best Matthew Mercer or Ashley Johnson impression and embark on your own adventure with Mad Libs! Play alone, in a group, or in a dragon's lair! Mad Libs are a fun family activity recommended for ages 8 to NUMBER.