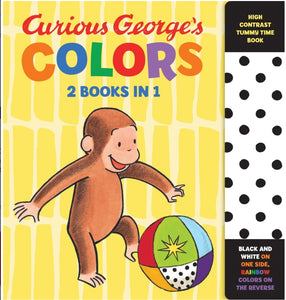 Curious George's Colors
Regular price $10.99 Sale
An accordion-style board book featuring Curious George! Perfect for tummy time, this book engages infants' minds and developing eyesight with bright colors and high-contrast imagery.
A Curious George accordion book that grows with your baby! Did you know babies see close-up, high-contrast images best? That's why black-and-white patterns hold their interest.
One side of this fold-out book features black-and-white shapes to appeal to the youngest babies. Place it on the floor for tummy time so baby can strengthen their neck and their developing eye sight. The other side features brightly colored panels of George and some of his favorite things, so an older baby can get curious about the colors of the rainbow with Curious George.