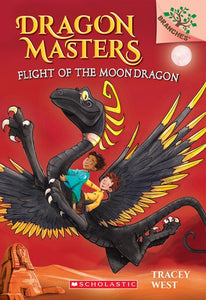 Dragon Masters (#6) Flight of the Moon by West
In the sixth book in the best-selling Dragon Masters series, the prime Dragon Stone is in trouble!
Pick a book. Grow a Reader!

This series is part of Scholastic's early chapter book line, Branches, aimed at newly independent readers. With easy-to-read text, high-interest content, fast-paced plots, and illustrations on every page, these books will boost reading confidence and stamina. Branches books help readers grow!

In book #6, the Dragon Masters have to save the prime Dragon Stone -- or they will lose their connections to their dragons forever! The Dragon Masters travel to the Land of Pyramids in search of the secret Pyramid of the Seven Dragons. There are several puzzles they'll need to solve in order to reach the hidden stone. Will the Dragon Masters find the prime Dragon Stone in time?