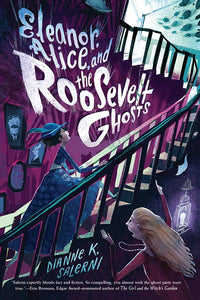 Eleanor, Alice, and the Roosevelt Ghosts by Salerni
Murderous ghosts and buried family secrets threaten young Eleanor and Alice Roosevelt in this thrilling middle-grade novel that puts a supernatural spin on alternate history.
It's 1898 in New York City and ghosts exist among humans.
     When an unusual spirit takes up residence at the Roosevelt house, thirteen-year-old Eleanor and fourteen-year-old Alice are suspicious. The cousins don't get along, but they know something is not right. This ghost is more than a pesky nuisance. The authorities claim he's safe to be around, even as his mischievous behavior grows stranger and more menacing. It's almost like he wants to scare the Roosevelts out of their home - and no one seems to care!
     Meanwhile, Eleanor and Alice discover a dangerous ghost in the house where Alice was born and her mother died. Is someone else haunting the family?
     Introverted Eleanor and unruly Alice develop an unlikely friendship as they explore the family's dark, complicated history. It's up to them to destroy both ghosts and come to terms with their family's losses.
     Told from alternating perspectives, thrills and chills abound in Dianne K. Salerni's imaginative novel about a legendary family and the ghosts that haunt their secrets.
A Junior Library Guild Gold Standard Selection