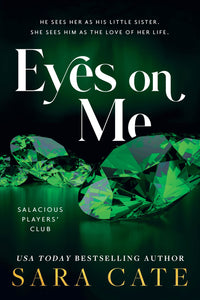 Eyes on Me by Cate
Regular price $16.99 Sale
Welcome to the Salacious Players Club—where the rules are simple and no desire is off limits
Garrett Porter is a voyeur—which means he like to watch. And in his line of work, that's a gift. As one of the four owners of the Salacious Players' Club, he's comfortable on the sidelines. This is what he was made to do, and he works better alone.
Until the day he stumbles on a certain cam girl app and finds himself watching the one person he should never have watched—his step-sister…
There are three big problems with this. One, Mia and Garrett can't stand each other. Two, she has no idea Garrett is the man on the other end of the video. And three…he's hooked—on the app and on her.