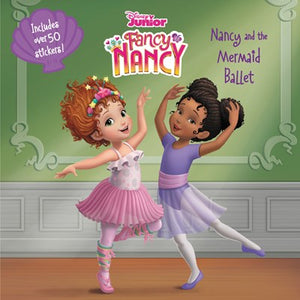 Fancy Nancy and the a Mermaid Ballet
Based on the Disney Junior TV show and inspired by the classic picture book series, this brand-new storybook stars Fancy Nancy and her best friend, Bree, as they try out for the leading role in the mermaid ballet!
When Nancy auditions for the leading role in the mermaid ballet, she is disappointed to discover that not only was she not chosen, but her best friend will play the lead! This beautifully illustrated storybook will include a sheet of fancy stickers.
Disney Junior's Fancy Nancy is an animated preschool series starring six-year-old Nancy, a girl who is fancy in everything from her advanced vocabulary to her creative, elaborate attire. The show is based on the New York Times bestselling book series Fancy Nancy by Jane O'Connor and Robin Preiss Glasser.