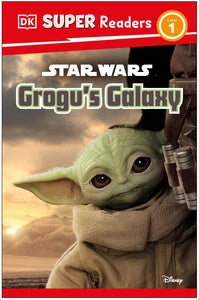 Grogu's Galaxy
Combining DK's four-level reading program with the world's most beloved Star Wars character, this book will help kids learn how to read—and learn to love reading.

Meet Grogu and his many friends in this high-quality, fun, nonfiction reader – carefully levelled to help children progress.

Learn more about the cute child, Grogu, from Star Wars: The Mandalorian Seasons One and Two, and from Star Wars: The Book of Boba Fett. Take a trip through the galaxy and see it through his eyes as Grogu goes on his fantastic journey, while finding out more about his amazing allies, including the Mandalorian, Din Djarin; Luke Skywalker; and Ahsoka Tano.

The engaging text has been carefully levelled using Lexile so that children are set up to succeed. Exciting Star Wars images, clear vocabulary, and a fun quiz will test young readers and help them in building their reading ability as they learn about this galaxy, far, far away…..