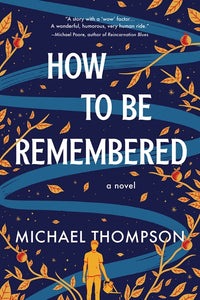 How To Be Remembered by Thompson
Regular price $16.99 Sale
What if the universe pressed "Reset" on your life...every year?
On Tommy Llewellyn's first birthday, his doting parents awoke in a home without baby blankets and bottles in the fridge, without the photos of their newborn once scattered about, and without any idea that the one-year-old sleeping in their home was their child. That's because Tommy Llewellyn is a boy who, in the very cosmic sense of things, will never be remembered—stuck in a universal Reset that causes everyone to forget he exists when the clock strikes midnight on his birthday each year. As he grows older and the bureaucracy of the foster system lands him at the same children's home year after year, Tommy resigns himself hopelessly to the Reset. That is, until his eighteenth birthday when he discovers he can bring money and an ID with him through the Reset, and the possibilities open up. Suddenly, Tommy realizes he can make an impact, finally get the girl of his dreams, and live a life worth remembering... as long as he can trick the Reset along the way.
With unending charm and a poignant message, How to Be Remembered is a life-affirming novel about discovering how to leave your mark on the places and people you love most, even if they're one day forgotten.