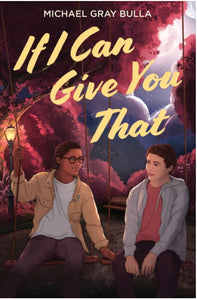 If I Can Give You That by Bulla
Regular price $19.99 Sale
For fans of Kacen Callender and Mason Deaver comes a heart-tugging coming-of-age YA contemporary debut about a trans boy who learns to let his walls down while finding community, discovering his sexuality, and navigating difficult family situations. 
When seventeen-year-old Gael Adams attends Plus, a support group for LGBTQIA+ teens, he doesn't plan on sharing much about his life as a trans boy at a conservative Tennessean high school. Then he meets open, easygoing Declan O'Connor, and Gael is welcomed into a new circle of friends who challenge his understanding of himself. 
But as Gael's friendship with Declan develops into something more, Gael finds himself caught between his mother's worsening mental health and his estranged father's persistent attempts to reconnect. After tragedy strikes, Gael must decide if he can risk letting down his guard and opening up to those who care for him.