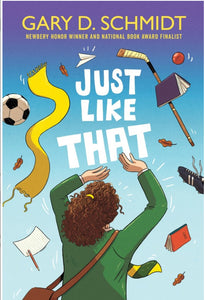 Just Like That by Schmidt
With insight and a light touch, bestselling, Newbery Honor–winning author Gary D. Schmidt tells two poignant linked stories: that of a grieving girl and a boy trying to escape his violent past.
Meryl Lee Kowalski is sent to a girls' boarding school in fall 1968 to move on from her grief over a close friend's death. Matt Coffin is on the run from a criminal gang, afraid that anyone he cares about is at risk. When his path crosses with Meryl Lee's, the pair's connection begins to shape each of their lives. As their relationship deepens, Meryl Lee finds unexpected friends and a sense of purpose, while Matt finds a new family and hope for the future. This poignant, witty novel is Gary D. Schmidt at his best, raising tears and laughter in equal measure.