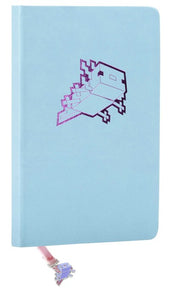 Minecraft Axolotl Journal
Regular price $19.99 Sale
Let the curious axolotl inspire you in your writing adventures with this officially licensed MINECRAFT softcover journal.

Use this journal to record your thoughts, build-inspiration notes, MINECRAFT experiences, and any of your other writing needs.

ENAMELED CHARM RIBBON MARKER: Never lose your place with the velvet ribbon marker adorned with an adorable metal and enamel charm of the friendly axolotl.

HIGH QUALITY AND ETHICAL: The high-quality and durable vegan faux leather cover features a foil stamped axolotl cover design and coordinating edge printing, making this softcover journal a beautiful and lasting keepsake.

184 RULED PAGES: With lined pages throughout, there is ample room for all your notes and thoughts.

CONVENIENT SIZE: This 5.75 x 8.25–inch journal is a comfortable size to journal anywhere and easy to throw in a bag or backpack to take with you on the go.

PERFECT FOR STUDENTS AND ADULTS: Whether you are new to the world of Minecraft or a seasoned adventurer, this hardcover journal is perfect for Minecraft adventures of any experience level.