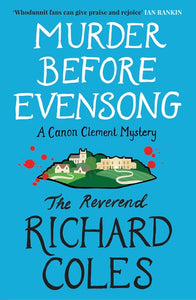 Murder Before Evensong by Coles
Regular price $16.95 Sale
"I've been waiting for a novel with vicars, rude old ladies, murder and sausage dogs... et voila!" Dawn French

This first in a new series is a charming, warm and witty tale of secrets and murder set among the parishioners of a quaint English village. The No.1 Sunday Timesbestselling crime novel, perfect for fans of Richard Osman's The Thursday Murder Club series.

'Whodunnit fans can give praise and rejoice'
IAN RANKIN

Canon Daniel Clement is Rector of Champton. He has been there for eight years, living at the Rectory alongside his widowed mother–opinionated, fearless, ever-so-slightly annoying Audrey–and his two dachshunds, Cosmo and Hilda.

When Daniel announces a plan to install a lavatory in church, the parish is suddenly (and unexpectedly) divided: as lines are drawn, long-buried secrets come dangerously close to destroying the apparent calm of the village.

And then Anthony Bowness–cousin to Bernard de Floures, patron of Champton–is found dead at the back of the church, stabbed in the neck with a pair of pruning shears.

As the police moves in and the bodies start piling up, Daniel is the only one who can try and keep his fractured community together... and catch a killer.

A delightful, cosy murder mystery with a sharp edge from the bestselling author.