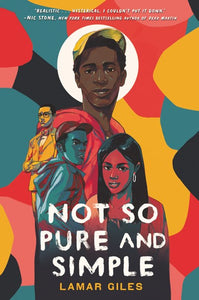 Not So Pure and Simple by Giles
Regular price $10.99 Sale
Two-time Edgar Award finalist Lamar Giles delivers his first contemporary YA—an eye-opening novel that spotlights societal pressures, confronts toxic masculinity, and begs the question: What does it mean to be a "real man"?
Del has had a crush on Kiera Westing since kindergarten, but she's always been coupled up with someone else. Now, during their junior year, she's finally single, and Del is ready to make his move. So when Kiera volunteers for a heart-changing opportunity at their church, Del's not far behind. Though he quickly realizes he's inadvertently joined a Purity Pledge.
His dad thinks his wires are crossed. His best friend doesn't believe any girl is worth that long of a long game. And everyone in his small Virginia town keeps discussing his "reputation." But Del can't lose his dream girl (again), which is why he needs fellow Purity Pledger Jameer's help. With other boys circling Kiera like sharks, Del has got to step up. But he ultimately neglects to ask: What does Kiera want?