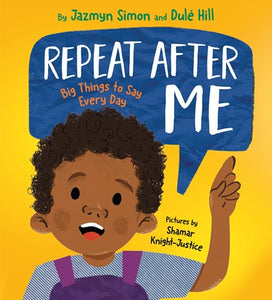 Repeat After Me: Big Things To Say Every Day by Simon
Regular price $18.99 Sale
I am worthy. I am loved. I am enough.
Every child, no matter their age, needs to know how loved they are and, more importantly, should love themselves. In this gorgeously illustrated book of affirmations, young readers are told how cherished, deserving, and gifted they are.

In their tender picture book, actors Jazmyn Simon and Dulé Hill tell children about the magic of self-love and standing firm, regardless of outside voices and doubt. Children will feel their confidence grow as they repeat the encouraging words on the page, take in the warm illustrations, and learn to believe in themselves!