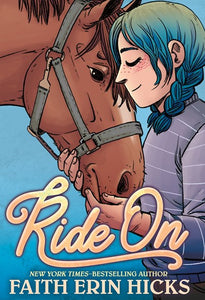 Ride On by Hicks
Regular price $14.99 Sale
In this middle grade graphic novel, twelve-year-old Victoria is burned out from the high-pressure world of riding competitions. Can she get back to basics and rekindle her love of horses?
Victoria thought all she wanted in life was to ride, train, and study horses. But after all the pressure from competitions, and a falling out with her best friend Taylor, Victoria takes a step back from everything. She starts attending Edgewood Stables, a smaller riding facility, with the goal to renew her love for horses.

But of course things could never be simple. At Edgewood Stables she is faced with the challenge of schooling a new horse named Quinn while dealing with the rocky personality of Norrie, the queen bee who is making everyone ignore Victoria. Things come to a head at the Waverly Stable's annual schooling show, where Victoria has to compete with Quinn and also face her ex-best friend!