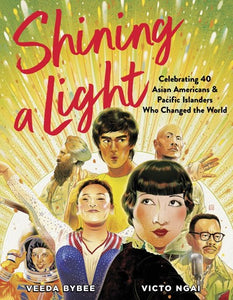 Shining A Light by Bybee
Regular price $17.99 Sale
Meet forty people who helped change the world in countless ways in this beautifully illustrated collective biography.
From scientists to sports stars, aerospace engineers to artists, every person shines in this collection. Dynamic portraits for each person showcase bold colors and clever, precise details. Each biography celebrates the determination and courage of people who were on the forefront of changing society.
Using their specific talents, each individual fought for the space for people of Asian and Pacific Islander descent to be seen and treated with dignity and respect. Their important legacies live on today.