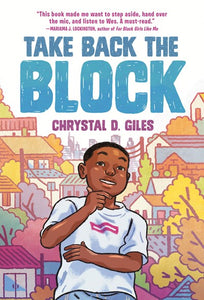 Take Back the Block by Giles
"This book made me want to step aside, hand over the mic, and listen to Wes. A must-read." --Mariama J. Lockington, author of
For Black Girls Like Me
Brand-new kicks, ripped denim shorts, Supreme tee
--
Wes Henderson has the 
best
style in sixth grade. That—and hanging out with the crew (his best friends since little-kid days) and playing video games—is what Wes wants to be thinking about at the start of the school year, not the protests his parents are always dragging him to.
But when a powerful real estate developer makes an offer to buy Kensington Oaks, the neighborhood Wes has lived in his whole life, everything changes. The grown-ups are supposed to have all the answers, but all they're doing is arguing. Even Wes's best friends are fighting. And some of them may be moving. Wes isn't about to give up the only home he's ever known without a fight. He's always been good at puzzles, and he knows there must be a missing piece that will solve this puzzle and save the Oaks. But can he find it before it's too late?
Chrystal D. Giles's timely debut explores community, social justice, family, and friendship, and asks what it means to belong—to a place and a movement—and to fight for a cause that you believe in.
*
 "
Outstanding
."
—School Library Journal, Starred Review
* "Transformative
."
—Kirkus Reviews, Starred Review