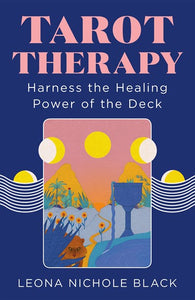 Tarot Therapy by Black
Regular price $19.00 Sale
Learn how to use the wisdom of tarot to bring connection and purpose to your life.
Tarot Therapy is a practical toolkit for understanding your life more fully through the wisdom of the tarot. Tarot therapist, Leona Nichole Black, guides readers through every aspect of daily life—from love and relationships with others, to careers and social impact—using the major arcana as a source of inspiration and guidance. The process is intuitive and immersive, a unique and powerful way of finding mental clarity, processing life experiences, and giving voice and language to your emotions.

Throughout Tarot Therapy you'll find personalized prompts, meditations, and tarot spreads that will empower you to:

- Read the map of your life's journey
- Hear the wisdom of your inner voice
- Take time to heal and grow
- Make life-changing decisions
- Reveal your talents to the world

Tarot Therapy is a reflective guide that will help you deepen and strengthen your most important relationship—the one you have with yourself.