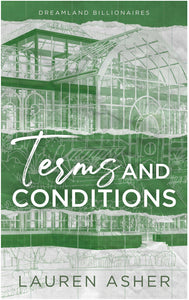 Terms and Conditions by Asher
Regular price $17.99 Sale
From TikTok sensation Lauren Asher comes a steamy marriage-of-convenience romance about one of the billionaire owners of an amusement park forced to marry in order to inherit part of his grandfather's estate, and the woman who agrees to the setup on the condition that love absolutely isn't involved... 
Declan 
I'm destined to become the next CEO of my family's media empire. 
The only problem? My grandfather's inheritance clause. 
Fulfilling his dying wish of getting married and having an heir seemed impossible until my assistant volunteers for the job. 
Our marriage was supposed to be the perfect solution to my biggest problem. 
But the more we act in love for the public, the more unsure I feel about our contract. 
Caring about Iris was never part of the deal. 
Especially not when breaking her heart is inevitable. 
Iris 
My plan to marry Declan was simple in theory. 
Move in together. Throw a wedding. Have a baby. 
We set rules to prevent any kind of issues. 
Ones that were never meant to be broken, no matter how much Declan tempts me. 
But what happens when our fake relationship bleeds into our real one? 
Falling in love was never an option. 
At least not for me.