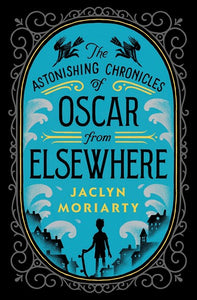 The Astonishing Chronicles of Oscar from Elsewhere by Moriarty
Regular price $18.99 Sale
A unique blend of humor, suspense, and magic, unfolding through the instantly recognizable rivalries, affections and foibles of her characters, from Jaclyn Moriarty
During a sleepover, a letter comes to five children begging for the urgent assistance of Esther Mettlestone-Staranise, the newly-realized Rain Weaver; she must arrive before 10am on Monday to save an entire town of elves. When they arrive, the children find two incredibly odd things: first, the town of elves, buried under layers of silver; and second, a regular-size boy who, soon after seeing the children, dies.
Oscar is that boy who skipped school in our world on Monday to skate, and found himself in the city of the elves at just the wrong moment: He fled as fast as he could, but not fast enough because the silver wave struck him and he fell down dead.
And that's just the beginning! At breakneck pace the cousins and friends (and a six-year-old stowaway elf named Gruffudd, who's a troublemaker) try to stop the clock and rewind the tragedy. Can they do it?
The pleasure is all in the adventure, as only Jaclyn Moriarty can tell it.