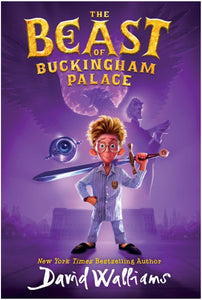 The Beast of Buckingham Palace by Walliams
Regular price $10.99 Sale
The UK's #1 bestselling children's author, David Walliams burst onto the US scene with the New York Times bestseller Demon Dentist. He's back with a fiery and fantastical tale of myth and legend, good and evil, and one small boy who must save the world, featuring a striking new cover direction that's perfect for the US market! 
The kingdom has fallen into darkness. 
Prince Alfred has never left the safety of Buckingham Palace. But there are strange goings-on inside the palace walls—and Alfred's life is about to change forever. 
In the dead of night something terrible stalks the corridors. When Alfred's beloved mother the queen is dragged off to the Tower of London, the boy must summon all his courage to embark on an epic quest to save her . . . and the entire world.