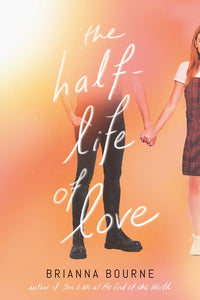 The Half-Life Of Love by Bourne
Regular price $19.99 Sale
Flint Larsen has 41 days, 9 hours, and 42 minutes to live. He's known exactly when he's going to die since he was eight years old and half-lifed, a small twinge that tells a person when they've lived half their life. From that moment, Flint's done everything he can to make his death more bearable. Cutting off all his friends, refusing to eat his favorite foods, reading only the most depressing literature by long-dead writers. He plans to spend his final days back in his hometown with his parents, quietly waiting to die.
But then he meets September Harrington, an utter explosion of brilliance and fun, and all his plans fly out the window. September has dedicated herself to curing the half-life, landing a coveted internship at the world-renowned Half-Life Institute. She has her own past that she's refusing to deal with, choosing instead to spend her nights living it up with her friends and her days deep in the lab, where she's working to find a cure.
When their worlds collide, it feels like the start of an epic, once-in-a-lifetime love. Only Flint can't bring himself to tell September he's dying, and September's keeping secrets too. The closer they get, the less time they have together and the more their secrets threaten to destroy everything. Can September and Flint save each other, or are their days numbered from the start?