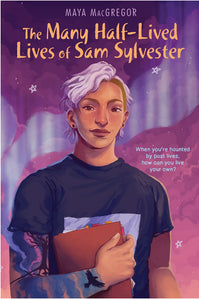 The Many Half-Lived Lives of Sam Sylvester by MacGregor
Regular price $12.99 Sale
In this queer contemporary YA mystery, a nonbinary autistic teen realizes they must not only solve a 30-year-old mystery but also face the demons lurking in their past in order to truly live a satisfying life.  Three starred reviews!

"Here's something rare—a suspenseful story that also feels like a hug." —Sarah Glenn Marsh, author of the Reign of the Fallen series

Sam Sylvester has long collected stories of half-lived lives—of kids who died before they turned nineteen. Sam was almost one of those kids. Now, as Sam's own nineteenth birthday approaches, their recent near-death experience haunts them. They're certain they don't have much time left. . . .

But Sam's life seems to be on the upswing after meeting several new friends and a potential love interest in Shep, their next-door neighbor. Yet the past keeps roaring back—in Sam's memories and in the form of a thirty-year-old suspicious death that took place in Sam's new home. Sam can't resist trying to find out more about the kid who died and who now seems to guide their investigation. When Sam starts receiving threatening notes, they know they're on the path to uncovering a murderer. But are they digging through the past or digging their own future grave?

The Many Half-Lived Lives of Sam Sylvester explores healing in the aftermath of trauma and the fullness of queer joy.

Story Locale:A fictional small town in the Pacific Northwest - Astoria, Oregon.