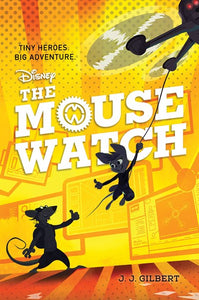 The Mouse Watch, Book 1 by Gilbert
You've heard of the Rescue Rangers. Now meet the Mouse Watch. 
Around the globe, exceptional mice live in the shadows. Under the direction of famed mouse inventor Gadget Hackwrench, they work together as a team to solve BIG problems using SMALL gadgets. They are high trained. They are nearly invisible. And they love cheese. Their mission: save the world.
Bernadette is a small — but brave — mouse with a score to settle. Jarvis is a sensitive rat with a big appetite and unmatched puzzle-solving skills. Both are eager to prove their worth as the youngest, newest recruits to the Mouse Watch. 
But before their first day of training is through, Bernie and Jarvis find themselves at the center of an evil plot orchestrated by the Rogue Animal Thieves Society (R.A.T.S.). Soon they are catapulted from new recruits into full-on action heroes, as they learn how to work together to save the Mouse Watch — and the world as they know it.