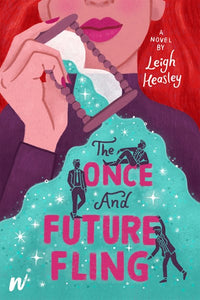 The Once And Future Fling by Heasley
Regular price $18.99 Sale
Looking for love in all the wrong ages.

Time travel is legal, and matchmaking agency Kairos lets clients travel through time in search of love.

Ada Blum thinks she wants to go to Regency England and settle down with her own Mr. Darcy, but after a disastrous date she agrees to try an entirely different era. She's sent to 1920s New York where she meets Henry Levison, a small-time hood. After yet another disastrous date, she's about to give up on the whole thing when she bumps into her first love, Samson St. Laurent, a State Senator with whom she had an affair that resulted in a major PR scandal and ruined Ada's life.

Sam is on the run through time, trying to use his knowledge of the future to make a fortune. He says he wants to win Ada back, but she's not sure. In some ways, she's drawn to Henry–even bringing him back to her time to save his life.

As Ada jumps back and forth from the present to the past, she'll have to decide where her heart truly lies and which man she wants in her future.