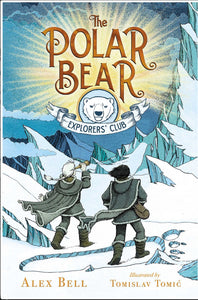 The Polar Bear Explorers Club by Bell
A precocious young girl is determined to prove herself as an explorer in the first novel in the whimsical Polar Bear Explorers' Club series.

Stella Starflake Pearl knows, without a doubt, that she was born to be an adventurer. It's too bad girls are forbidden from becoming explorers.

But Stella's father has never been one to play by the rules.

Leaving behind her pet polar bear, Gruff, and beloved unicorn, Magic, Stella and Felix set off on an expedition to the snowy Icelands. There, Stella plans to prove herself as a junior explorer, worthy of membership in the Polar Bear Explorers' Club. So when Stella and three other junior explorers are separated from the rest of their expedition, she has the perfect opportunity. Can they explore the frozen wilderness and live to tell the tale?

The first in Alex Bell's imaginative new series, The Polar Bear Explorers' Club is a fun and daring adventure filled with magic, outlaws, and fantastic faraway lands.