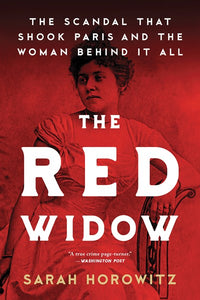 The Red Widow by Horowitz
Regular price $17.99 Sale
Bridgerton meets How to Get Away With Murder in this sexy, scandalous, and real-life story of the original femme fatale of Paris, now in paperback!
In Gilded Age Paris, society climber Marguerite Steinheil broke every rule in the bourgeois book—and got away with it. Stuck in a disappointing marriage with a failing painter but determined to rise to the top, Meg rose to infamy when one of her extramarital lovers, France's President Félix Faure, died of a stroke during one of their heated rendezvous. But, Meg had higher ambitions than becoming one of the most sought-after mistresses in Paris. At her core, she was a woman determined to conquer high society, no matter what the cost.
A real-life femme fatale who left a trail of death and destruction in her wake, Meg became known as the Red Widow for mysteriously surviving a home invasion that left both her husband and mother dead. More than just a rollicking and entertaining tale of sex and murder, Meg's life is a window into the dazzling glamor, art, and romanticism of bourgeois Paris, perfect for readers of The Radium Girls and Sin in the Second City.