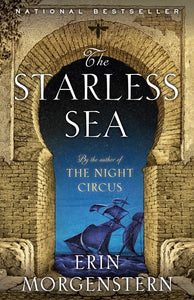 The Starless Sea by Morgenstern
Regular price $18.00 Sale
From the

 

New York Times

 

bestselling author of

 

The Night Circus

 

comes a timeless love story set in a secret underground world—a place of pirates, painters, lovers, liars, and ships that sail upon a starless sea.

Zachary Ezra Rawlins is a graduate student in Vermont when he discovers a mysterious book hidden in the stacks. As he turns the pages, entranced by tales of lovelorn prisoners, key collectors, and nameless acolytes, he reads something strange: a story from his own childhood. Bewildered and desperate to make sense of what he's reading, Zachary uncovers a series of clues—a bee, a key, and a sword—that lead him through a doorway to an ancient library hidden far below the surface of the earth. There Zachary finds a place of lost cities and seas, lovers who pass notes under doors and across time, and meets two people who will forever change his life: Mirabel, a fierce, pink-haired painter, and Dorian, a handsome, barefoot man with shifting alliances. But a battle is raging over the fate of this place, and though there are those who would sacrifice everything to protect it, there are just as many intent on its destruction.