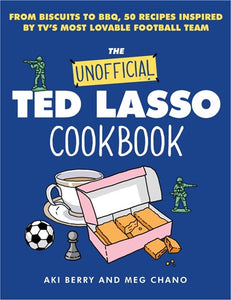 The Unofficial Ted Lasso Cookbook by Berry (Releases on 11/14/23)
Regular price $24.99 Sale
This book will come out 11/14/23.

Inspired by the beloved, Emmy Award–winning TV show Ted Lasso, a collection of 50 recipes, quotes, and other Easter eggs for anyone who knows that Football is Life!
Keep calm and carry on, The Unofficial Ted Lasso Cookbook is here. Perfect for fans in need of "sweet treats to numb the sting of defeat," or those who agree that tea tastes like "hot brown water," this collection of 50 recipes will warm hearts and fill stomachs.
Featuring delicious dishes from every corner of the Lassoverse, like:
"Be the Goldfish" Trail Mix
Kansas City-style Pulled Pork
Sam Obisanya's Jollof Rice
English Pub Style Fish and Chips
Rebecca Welton's Boss Bitch Cocktail
BELIEVE Cupcake Sheet
And of course, Ted's signature biscuits (along with instructions to DIY the iconic pink biscuit box)
With recipes for every occasion—from afternoon tea parties to AFC Richmond tailgates—plus creative watch party ideas, quotes, and stories, this cookbook will allow readers to recreate the quirky, high-spirited world of Ted Lasso, and welcome its infectious optimism into their very own kitchens.