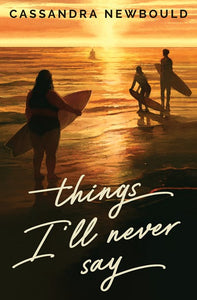 Things I'll Never Say by Newbould
Regular price $18.99 Sale
A beautifully raw coming-of-age story for fans of Becky Albertalli and Julie Murphy, examining what it means to crush on your two best friends at the same time.

Ten years ago, the Scar Squad promised each other nothing would tear them apart. Even when Casey Jones Caruso lost her twin brother Sammy to an overdose, and their foursome became a threesome, the squad picked each other up. But when Casey's feeling for the remaining members—Francesca and Benjamin—develop into romantic attraction, she worries the truth will dissolve them.

Casey tries to ignore her heart, until Ben kisses her at a summer party, and Frankie kisses another girl. Now Casey must confront all the complicated feelings she's buried—for her friends and for the brother she's totally pissed at for dying. Since Sammy's death, Casey has spilled all the things she can no longer say to him in journals, and now more than ever, she wishes he were here to help her decide whether she should guard her heart or bet it all on love, before someone else decides for her.