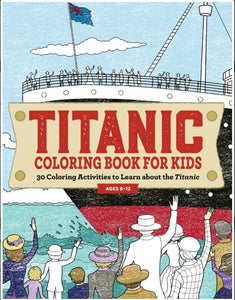 Titanic Coloring Book for Kids
30 coloring activity pages that show the Titanic through its entire life - construction, launch, maiden voyage, iceberg strike, sinking and salvage/rediscovery (including interior and exterior scenes). Additionally each page will feature a high interest fact.
Explore the history of the Titanic—a coloring book for kids ages 8 to 12
Kids will set sail and color as they learn about one of the most famous ships in history! The Titanic was a marvel of technology and engineering for its time—before it struck an iceberg and sank just four days after it launched. Help kids discover the full story through this historical coloring book, including the impressive construction of the ship, the tragic end of its journey, and why the Titanic still fascinates us over 100 years later.
Life on the Titanic—Color 30 scenes that explore what it was like to be a passenger, from eating in the dining rooms to swimming in the pool.
Historical facts on every page—As kids color, they'll uncover amazing details about the Titanic—from its huge size, to the path it planned to take across the Atlantic Ocean, and more.
Fun for kids—Encourage kids' artistic skills with detailed illustrations they can color, printed on single-sided pages so they can tear out and save their favorites.
Give curious young minds a glimpse into history with this Titanic book for kids.