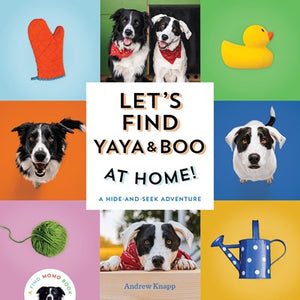 Let's Find Yaya And Boo At Home! By Knapp
Play hide-and-seek with adorable dogs Yaya and Boo in this joyful board book from the creator of the Find Momo series!

Where is Yaya, and what mischief is Boo getting into? Look for Yaya and Boo at a lemonade stand by the end of the driveway, hidden in the flower beds near the front porch, waiting for a snack at the kitchen table, and more! Learn new words by searching for objects in each picture, and spot Yaya and Boo in the unlikeliest places.

Whether they're hiding in a cardboard castle or snuggling in a pile of stuffed animals, Yaya and Boo show us that staying at home can be an adventure, too!