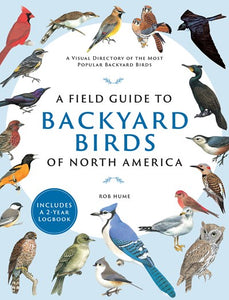 A Field Guide To Backyard Birds Of North America by Hume
Regular price $16.99 Sale
A Field Guide to Backyard Birds of North America introduces over 50 common North American birds with detailed information and beautiful illustrations, and includes a 2-year bird-watching logbook.

 
A beautifully illustrated visual directory of more than 50 of the most popular North American birds with a logbook to record two years of bird-watching discoveries.

Whether you're just getting started birding or want to build on your existing knowledge, this handbook provides you with all you need, making it the companion in the field. Inside this gorgeously illustrated guide, you'll find:
 
The basics of bird-watching, including when, where, and what to look for, as well as how to take accurate notes and make sketches.
A fascinating introduction to the amazing world of birds, including facts on their origin, anatomy, feathers, calls and postures, courtship, nests, feeding, and migration habits.
Superbly detailed and realistic illustrations that show each bird's distinctive colors and plumage.
A unique logbook, filled with tips to get the most out of bird-watching, so you can chart your own findings and observations over 2 years.
More than 50 of the most commonly seen birds in the United States in one comprehensive species catalog.
How to turn your own backyard into a safe and hospitable bird reserve.
 
Sized perfectly to fit into a shoulder bag next to your binoculars, A Field Guide to Backyard Birds of North America is the one book you won't want to leave home without