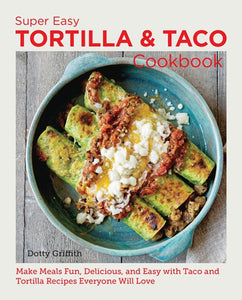 Super Easy Tortilla & Taco Cookbook by Griffith
Regular price $16.99 Sale
Enjoy the fun, ease, and yumminess of making your own tacos and tortillas at home with the Super Easy Tortilla and Taco Cookbook.
You'll want to make quick, customizable filled Mexican flatbreads much more often than just on Taco Tuesday with the flavorful fillings, sauces, toppings, and tortillas in this accessible cookbook.

Tacos and tortillas are super fast and super easy to make, and they taste super good at every meal. In this adapted and affordable edition of The Ultimate Tortilla Press Cookbook, find recipes for traditional and surprising filling combinations as well as a range of ideas for handmade flatbreads, if you choose to make your own.

Super Easy Tortilla and Taco Cookbook includes recipes for every meal plus snacks and even desserts, all of which are made with healthy, non-processed, affordable ingredients. Learn to make authentic corn and wheat tortillas as well as gluten-free tortillas—with exciting variations using spices, tomatoes, spinach, and chile peppers. And then find a host of tasty filling recipes that will make tacos and tortillas you new go-to meal for breakfast, lunch, and dinner.

The recipes include all the very best homemade Southwestern, TexMex, and Mexican sauces, toppings, and fillings you need to turn out soul-satisfying enchiladas, fajitas, tacos and taco salads, chalupas, quesadillas, burritos, and even desserts and sweet sauces.

Tacos and tortillas are a great way to use leftovers, and the breads can be kept in the fridge or frozen for meals on the fly any day of the week. There are vegetarian, gluten-free, and paleo options offered, so you can fully customize recipes based on individual dietary needs or tastes. Cook one or two, or serve a crowd.

Serving up a wide variety of tasty recipes, everyone will be happy and satisfied with the Super Easy Taco and Tortilla Cookbook.