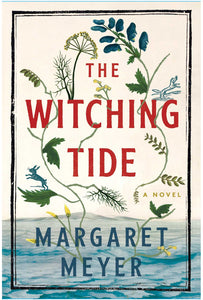 The Witching Tide by Meyer
Regular price $28.00 Sale
East Anglia, 1645. Martha Hallybread, a midwife, healer, and servant, has lived peacefully for more than four decades in her beloved seaside village of Cleftwater. Having lost her voice as a child, Martha has not spoken a word in years. 

One autumn morning, a sinister newcomer appears in town. The witchfinder, Silas Makepeace, has been blazing a trail of destruction along the coast, and now has Cleftwater in his sights. His arrival strikes fear into the heart of the community. Within a day, local women are being captured and detained, and Martha finds herself a silent witness to the hunt. 

Powerless to protest, Martha is enlisted to search the accused women for "devil's marks." She is caught between suspicion and betrayal; between shielding herself or condemning the women of the village. In desperation, she revives a wax witching doll that belonged to her mother, in the hope that it will bring protection. But the doll's true powers are unknowable, Martha harbors a terrible secret, and the gallows are looming… 

Set over the course of just a few weeks that will forever change history, The Witching Tide delivers powerful and psychologically astute insights about the exigencies of friendship and the nature of loyalty, and heralds the arrival of a striking new voice in fiction.