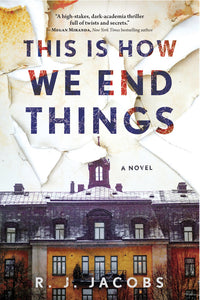 This Is How We End Things by Jacobs
Regular price $16.99 Sale
Six students. One professor. All trained in the art of deception. All with a reason to kill….
It's almost spring break in the university town of Forest, North Carolina. Campus is deserted and the temperature is dropping. Someone is watching and waiting. Someone who has killed before plans to kill again.
Under the direction of Professor Joe Lyons, five graduate students remain on campus. They have been conducting an experiment on the psychology of deception to uncover the science behind lies. But they each have something to hide themselves.
Then, a test goes awry, and an angry subject ends up in handcuffs. The group believes it to be a fluke incident. But when one of them is discovered murdered in Lyon's office less than twenty-four hours later, they find that their studies may have deadly consequences – and that each of them had a reason to kill. With a local detective on the case and a major snowstorm moving in, the students soon realize that lies can be more dangerous than they ever believed. How do you spot a liar who may be an expert on the psychology of deception?