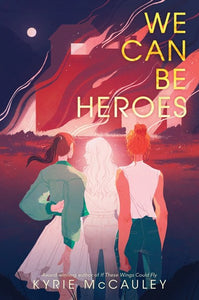 We Can Be Hero's by McCauley
Regular price $15.99 Sale
Kyrie McCauley, author of If These Wings Could Fly, delivers a powerful contemporary YA novel about a trio of girls fighting for each other in the aftermath of a school shooting and the lasting bonds of friendship. Perfect for fans of Laura Ruby and Mindy McGinnis.
"Welcome to Bell, proud home of Bell Firearms for two hundred years, and where, five months ago, the teen heir to the Bell fortune took his father's guns to school and killed his ex-girlfriend, Cassandra Queen." —WE CAN BE HEROES PODCAST
Beck and Vivian never could stand each other, but they always tried their best for their mutual friend, Cassie. After the town moves on from Cassie's murder too fast, Beck and Vivian finally find common ground: vengeance. They memorialize Cassie by secretly painting murals of her around town, a message to the world that Cassie won't be forgotten. But Beck and Vivian are keeping secrets, like the third passenger riding in Beck's VW bus with them—Cassie's ghost. 
When their murals catch the attention of a podcaster covering Cassie's case, they become the catalyst for a debate that Bell Firearms can no longer ignore. With law enforcement closing in on them, Beck and Vivian hurry to give Cassie the closure she needs—by delivering justice to those responsible for her death.