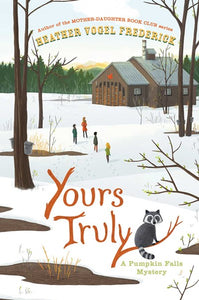 Yours Truly by Frederick
Another wild mystery needs to be solved and it's up to the Pumpkin Falls Private Eyes to solve it in this hilarious follow up to the heartwarming middle grade mystery,

 

Absolutely Truly.

Even Truly Lovejoy has to admit that teeny-tiny Pumpkin Falls, New Hampshire, has its charms—like the annual maple festival, where tourists flock from all over to sample the local maple syrup, maple candy, maple coffee, and even maple soap! But when someone tries to sabotage the maple trees on her friend Franklin's family farm, Truly has to rally the Pumpkin Falls Private Eyes to investigate.

Meanwhile, she uncovers another, more personal mystery under the floorboards of her very own home—a diary written centuries ago by her namesake, the original Truly Lovejoy…and it might just prove her family's ties to Pumpkin Falls run deeper than anyone ever could have imagined.