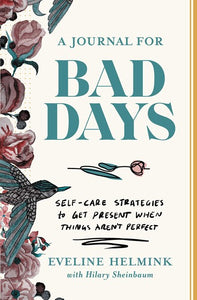 A Journal for Bad Days by Helmink
Regular price $14.99 Sale
Get through the tough times with dozens of prompts and activities in this companion journal to the popular

 

Handbook for Bad Days.A Journal for Bad Days

 provides the tools to help you through tough times. Inside, you will find questions to ponder while facing the worst days with courage, compassion, and your head held high. This journal provides sixty prompts inspired by the topics referenced in the popular 

Handbook for Bad Days

, including the benefits of a good cry, the importance of a social media detox, the power of saying "yes, but…", and the gift of an apology. In these prompts, you can document your personal stories, thoughts, and intimate contemplations about grief, living in the present, ego, and more. Bad days are part of being human, but they no longer have to control you. Instead, you can take charge of your low days and transform them, and yourself.